Been wanting to see how this played out for ages. Despite the importance of the watchtowers to the campaign, this one's defences have been neglected and the palisade is in need of repair. Before it can be upgraded the Saxons decide to burn it.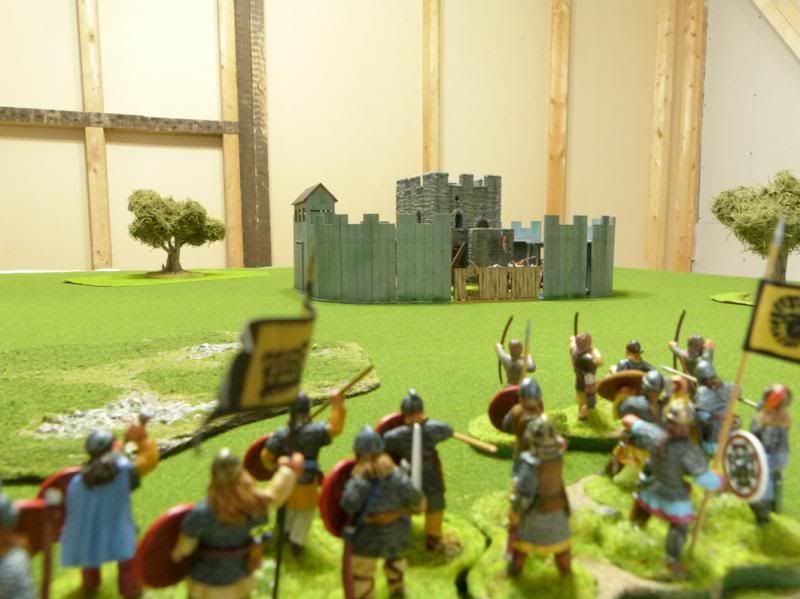 Both Saxon groups approached from the east, The Hearthguard made for the gates while the Warriors went for the walls.
One group of levy stood behind the gates while the other two manned the ramparts, the Saxon nobles in charge of the Warriors decided to assualt the walls, one group were beaten back while the other managed eventually to force their way in as the Levy facing them broke. As the victorious Levy group began to celebrate their repulse of the Saxons to their front they suddenly found themselves up against the interlopers. This proved too much to ask of these part timers and they too fled to the dark recesses of the defences. The gates by now had crumbled and the Hearthguard made short work of the defenders, despite falling back in fairly good condition these men too eventually ran after being assailed by a group of Saxons who had made it over an undefended portion of the walls. The Hearthguard soon had the watchtower ablaze. Which is just as well as the British main body had turned up.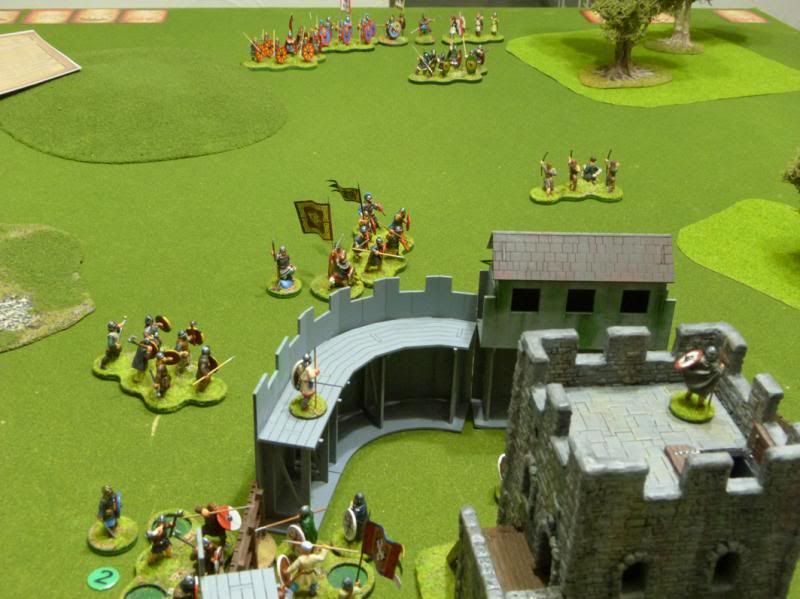 Despite the tower being alight the Saxons had to hold off the British until the fire had taken a decent hold, so a wall of steel was gathered outside the main gate while the rest of the raiders escaped.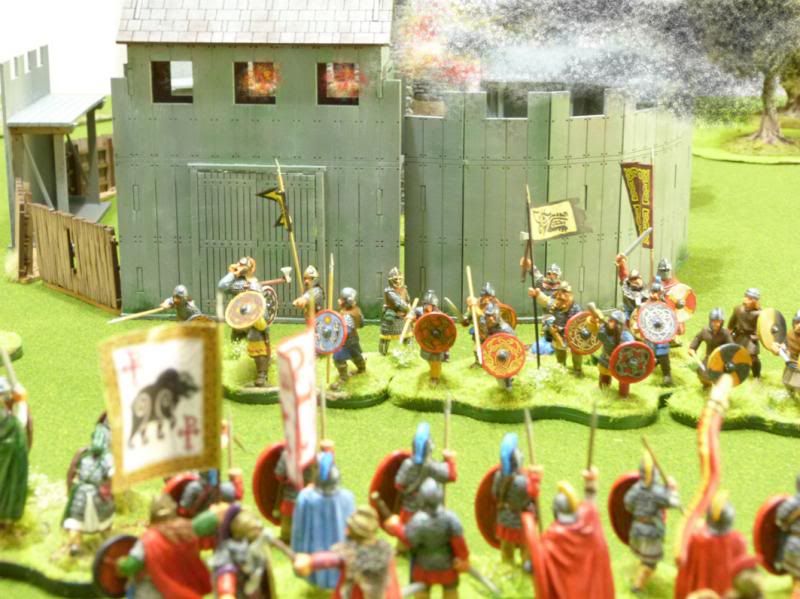 As the fire raged the British advanced and managed to get the initiative at just the right time to assault the Saxons with an excellent five card hand. The first clash of combat destroyed one Saxon unit and caused the others to pull back. This was too much and over the next short while the Saxons fled the area.
The Saxons won the actual scenario, the tower had been alight for three turns and I decided that was enough to cause enough damage to put it out of action until repairs could be made (i.e. a new tower). All the Levey units went down fighting and only the one defending the gate failed to inflict decent losses on the Saxons.
Now am I doing this right: one Saxon unit had two men left after the first clash, it had three shock. The whole Saxon line lost the fight with the +3 result. So that unit falls back a minimum of 6", it gets another 2" for the one excess shock as it is warriors, it then throws 2D6 (threw 9) as it has been routed. So it retires 17"?