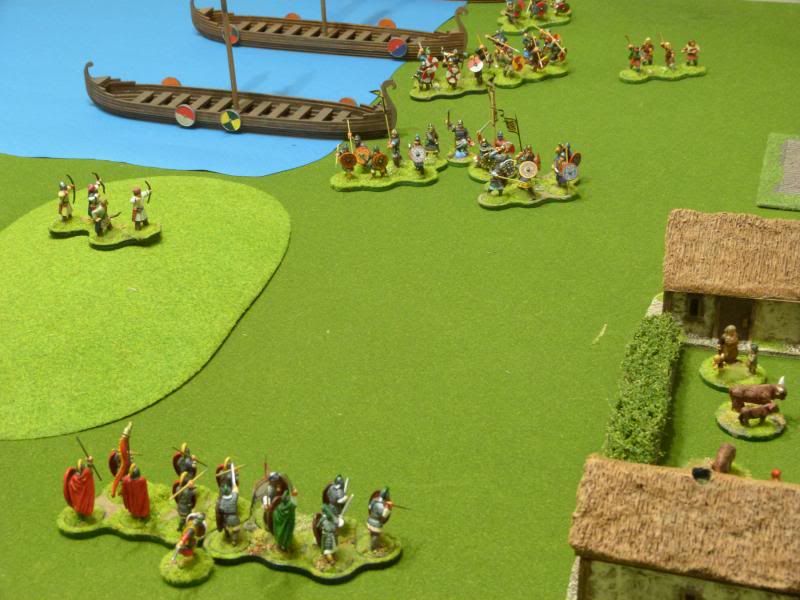 I at last got around to trying this scenario from the Summer Special 2012 (I think).
The Saxons arrived and immediately made for the village and the livestock, the British Warriors tried to intercept and the archers moved out of the tower, but then decided to move back in again as they were almost invincible behind the stone wall. The Saxon hearthguard defeated the Warrior shieldwall and it fled, meanwhile the others had cut out two groups of livestock and were ready to head back to the ships. The remainder of the British arrived, as far away as possible and it looked like an easy victory for the raiders. The British elites dived in and although they managed a couple of casualties on the Saxons they took a bucket load of shock and ran, the Saxon rearguard was by this time fairly thin, the Lord and champion were dead and a further noble seriously wounded. All now relied on the Levy, bolstered by all the British aristocracy two groups charged and destroyed two hearthguard and some warriors. The remaining Saxons now had to relinquish some of their ill gotten gains and make for the boats. The Levy wisely let them go.
It never ceases to amaze me how quickly this game can turn, and once again my Levy come through, my elites lost their amphora without one loss, even my warriors left the field with decent strengths. The Saxons meanwhile took horrendous casualties.
A couple of things about the scenario, for getting in and out of the boats or tower I would -1D6, I would also say that moving the livestock on a boat takes a full turn once after you arrive at a ship. It might be an idea that the Saxons can put the two bases of livestock into one controlled by one group rather than two with two groups once they have captured them.
All in all an excellent game.