Hammerhead 2020 - two great spaces the 'Gamers Lounge' as well as the George Stephenson Exhibition Hall!
Hammerhead 2020
will be taking place on
Saturday 14th March
at the
Newark Showground
, Newark, from 10am until 4.30pm.
Entry is £5.00 GBP per adult, £3.00 GBP for minors (16 and under)
, Children under 9 free. Tickets are now available on-line which entitles you to a free Hammerhead miniature on entry.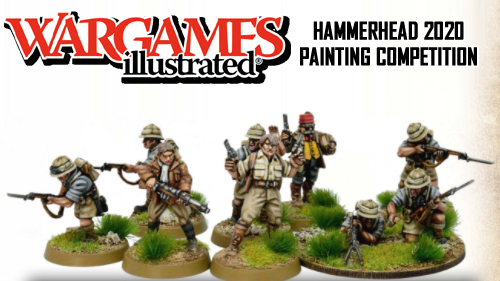 The
Wargames Illustrated painting competition
has lots of categories and great prizes (check website for more information) - free entry to the competition, just bring along your models!
George Stephenson Exhibition Hall and the Cedric Ford Pavilion - the 'Gamers Lounge' offer a welcoming environment with plenty of natural light in which you can play games, shop for wargame goods from the very best UK traders and manufacturers.
Up to 70 fantastic visitor participation games – Historical, Fantasy and Sci-fi,
located in the central areas are the focus of the show. There are
two separate catering facilities
which will be serving a variety of reasonably priced hot and cold food throughout the day and a fully licensed bar located in the Gamers Lounge.
All
games at Hammerhead are visitor participation
, which means that you are very welcome 'to have a go' at a wide variety of different historical and fantasy based games run by intrepid gaming clubs, historical societies, wargame companies and enthusiastic groups of gamers. You will be able to play a full game or simply move a few miniatures, roll some dice, have a chat with the people running the game and then move onto the next. The show provides a great opportunity to try out new or familiar game systems and spend a day indulging yourself and friends in this absorbing and fascinating hobby. Whether you're interested in The Great War, WWII, Medieval, AWI, Fantasy or Science Fiction, we are sure that you will find a selection of games you would like to play.