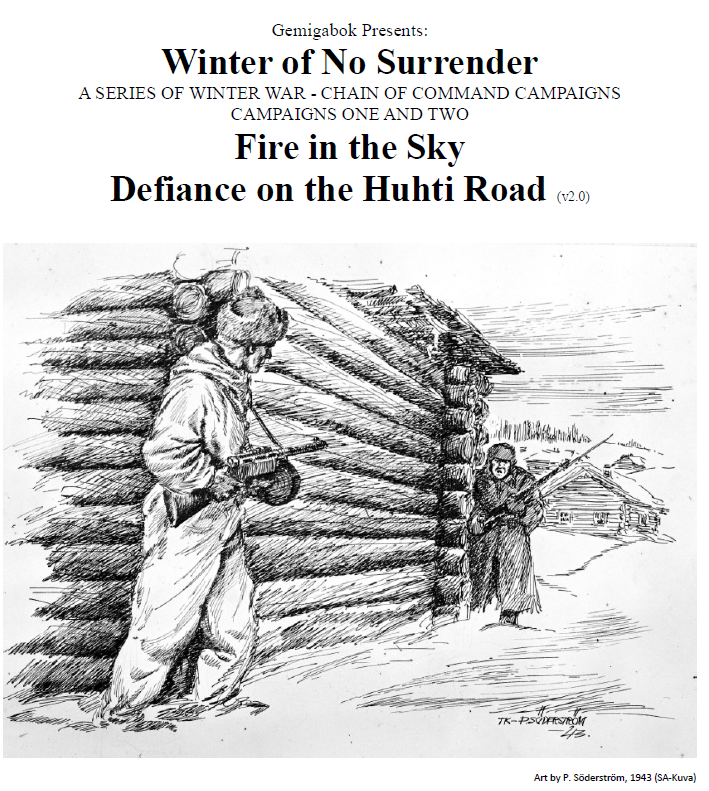 The sky in the south is blood red, a gigantic sheet of tree-silhouetting crimson stretching from the south-east all the way to the south-west and rising up to the heavens where it mingles with the stars. It is the glow of hundreds of homes and barns set alight by the Border Companies. The orders are to leave nothing to the enemy. They may get our lands but they will not have our homes. There is something so very final about it all.
Exactly 80 years ago today the Soviet Union began its invasion of Finland, starting what soon became known as the Winter War. Today I'm releasing the first two skirmish-scale campaigns in the Winter of No Surrender series - Fire in the Sky and Defiance on the Huhti Road. They follow the fates of forces from two Finnish units – the 7th Border Company and the 6th Independent Battalion - during the first days of the Winter War as they attempt to delay the invading Red Army's 142nd Infantry Division on its way to the Taipale Sector, some twenty-five kilometers by road. The Soviets have a schedule according to which they should cover this distance in approximately one day. Actually they will end up spending a whole week getting there.
In Fire in the Sky the 7th Border Company is responsible for a six-kilometer stretch of the road. In Defiance on the Huhti Road the 6th Independent Battalion is then responsible for the next nine kilometers between the village of Palkeala and Rautu village. At Rautu, the Finnish 3rd Brigade waits for the approaching Russians in entrenchments protected by barbed wire, anti-tank obstacles and ditches, minefields and anti-tank guns, ready to give battle. The Mannerheim Line itself is located beyond the Lake Suvanto, some 13 kilometers to the north of Rautu.
The Finns will field one reinforced platoon of Border Guards and one reinforced company (four platoons) from the 6th Independent Battalion.
The Soviets will field two Rifle Companies (one command platoon, three rifle platoons and a machine-gun platoon each) from the 142nd Division. Despite these impressive forces the nature of the road network is such that each side will usually only be able to bring one - possibly reinforced – platoon onto the table at a time.
The campaign features maps, terrain notes, company-level TOE for both sides, support options, optional rules and historical notes.
Though written for the Chain of Command rule set by Too Fat Lardies, the campaigns should - with minor alteration – also be usable with other platoon or company-scale wargames rules (including but not limited to Bolt Action, Battleground WWII, I Ain't Been Shot Mum, Battlegroup, Nuts! and Disposable Heroes) and notes are included for that.
The campaign is downloadable from here:
http://www.saunalahti.fi/~ejuhola/7.62/ ... index.html